Islamists and the Bulldozing of American Hindus
(Image for representational purpose. Image courtesy: 7rcr.com)
It happened. In New Jersey. Home of one of the largest Hindu populations in America. Hindus got "bulldozed."
In August, the Indian Business Association of New Jersey (IBA) was forced to apologize for having a bulldozer at its parade. The bulldozer was portrayed by groups such as the Indian American Muslim Council (IAMC), the Council for American Islamic Relations (CAIR) and Hindus for Human Rights (HfHR) as an anti-Muslim symbol of hate and bigotry.
The propaganda was so well rehearsed and targeted that it had swift results. Senators Bob Menendez and Cory Booker condemned it. Others like Congressman Frank Pallone and Congresswoman Bonnie-Watson Coleman also condemned it. Two top NJ Hindu lawmakers (Vin Gopal and Raj Mukherji) condemned it in a joint letter with Assemblywoman Sadaf Jaffer and others. Edison Mayor Sam Joshi, another Hindu American official, was also forced to condemn it.
Then came the pressure on a program organized by Hindus for Sadhvi Rithambara, forcing a Northern New Jersey church to cancel the space that was legitimately rented by community members for a spiritual discourse on September 10th.
Finally, on September 12th, the Teaneck Democratic Municipal Committee, passed a resolution declaring American Hindu organizations such as the Hindu American Foundation (HAF), the Vishwa Hindu Parishad of America (VHPA) and Sewa International as "domestic branches" of "foreign hate groups," along with other reputed organizations like Infinity Foundation and Ekal Vidyalaya. The resolution urged NJ lawmakers, the FBI and the CIA to review their tax-exempt status and even look into the visas of individuals.
The Teaneck resolution is so toxic and filled with lies, that I would not be surprised if Teaneck Democratic Municipal Committee faces a lawsuit from one or more of the organizations.
This post won't go into the bulldozer, Sadhvi Rithambara, or the dynamics in India around corruption and social issues.
Instead, it calls out the bias of these elected officials. NONE of these officials even bothered to understand the extremist, Hinduphobic and bigoted backgrounds of these organizations (in fact, this entire website is dedicated to groups like IAMC, HfHR, Sadhana, etc.) who work full time to paint Hindus as violent and oppressive.
Hindus been bulldozed and demonized, and subjected to hatred and bigotry. And, this time, the blame is squarely on these elected officials, many of whom can't even point out Uttar Pradesh or Mumbai on a world map. These elected officials failed to do their due diligence and essentially endorsed lies fed to them by groups who have a history of supporting terrorists, peddling lies and supporting those who have intense hatred for Hinduism and exhibit homophobia and racism.
Fearful of being called "Islamophobic," these officials (as well as the general American public) have failed to uncover the terrorist and extremist connections of some of these organizations, who have done a good job scrubbing these links from the minds of Americans post 9/11 (the fact that I am writing this after 21 years of the anniversary is scary).
This post covers three main ones behind the anti-Hindu campaigns – IAMC, HfHR and CAIR. It provides an overview of how some of them have been found guilty of financing terrorists by the US government, have openly supported those who have called for violent Jihad against Americans as well as India, and have been condemned by noted civil rights and community leaders as well as their own communities. 
It is my hope that the Hindu community can use this information to push back against this Hinduphobia and bigotry and educate the gullible and misinformed public officials who are rushing to pass judgments on our community.
While they are calling for investigations against Hindu organizations, they are ignoring the fact that those attacking Hindus have proven terrorist and extremist links!
The Indian American Muslim Council (IAMC)
Leading the charge in all of this is the IAMC. IAMC bills itself to be the largest advocacy organization for Muslims of Indian origin. However, since its inception, the group has had only one focus – the demonization of Hindus under tropes of "Hindu nationalism," "Hindutva," etc. The organization creates a web of alliances, one-man groups and fake organizations to spread its propaganda and lies and intensify Hinduphobia in the United States. Relentless. Nonstop.
When I started my website many years ago, I had written extensively about IAMC, its anti-Hindu narrative (see here) and its propaganda, which has only intensified over the past two decades.
IAMC puts on a farce about Indian patriotism while its founders and key officials are known to support Pakistani extremists, inviting those who have been found guilty of terrorist financing and glorifying jihadists that fight India in Kashmir. A few examples below are worth noting:
Endorsing Extremists and Inviting Speakers with Terrorist Connections
In 2003, the IAMC (then known as Indian Muslim Council) held its first ever high profile conference, titled India After Gujarat – Democracy or Religious Fanaticism. The conference emphasized an "impressive array of speakers" that came at a time of "…widespread concern across the world about the changing nature of Indian society due to the rise of a divisive and hate-based ideology called Hindutva."
One of the much-touted speakers was Asim Ghafoor (described as a political consultant). However, Ghafoor was the spokesperson for Global Relief Foundation (GRF), which was shut down by the United States government in 2001 for links to Osama Bin Laden and Al Qaeda. The US Treasury Department's memo outlined the role of GRF in funding terrorism extensively, including "…the shipment of materiel to a terrorist organization operating in the Kashmir region and through financial transactions with a Texas-based charitable organization."
But, that's not all. Ghafoor was also the spokesperson for Care International, which was exposed by a December 2002 Wall Street Journal article as follows:
Records indicate close ties between [Care International] and the Boston branch of Al Kifah Refugee Center, the Brooklyn branch of which was named by prosecutors as the locus of the 1993 conspiracy to bomb the World Trade Center. . . . Al Kifah's Boston office on Commonwealth Avenue is located in the same suite that Care International listed in its 1993 incorporation documents. A website registered by Al Kifah has been used by Care International. . . . And the militant Islamic newsletter Al-Hussam (The Sword) listed [as] its publisher Al Kifah until April 1993, after which it listed Care International as its publisher."
Note that Ghafoor was also invited to the 2008 IAMC Convention.
In 2014, IAMC's Advocacy Director Ajit Sahi called ISIS and Hamas as "freedom fighters" and "people's movements [who] had no choice but to take up arms." He also described ISIS and Taliban as citizens who were simply "shooting the invader" who was trespassing their land.  (See screenshots below).
Interestingly, in 2021, Sahi was awarded the Swami Agnivesh Award by Hindu for Human Rights (HfHR, discussed further) for being "…a dedicated campaigner for civil liberties, human rights and religious freedom in India for over three decades." HfHR called Sahi their "trusted mentor and close partner…"
In 2002, after the fall of the Taliban government following the operations conducted by US and its allies on terror group such as al Qaeda, Kaleem Khawaja, who was an official of IAMC, wrote an article titled, Brother, can you spare a tear for Taliban? where he lamented on the fall of the extremist Taliban government, ending the article by saying: "Today, an overwhelming majority of Muslims all over the globe feel deep sadness at the tragedy, that befell the attempts of the Muslims of Afghanistan to reform and make their country strong by using the egalitarian Islamic practices."
Dr. Shaik Ubaid and the Support for Jihadists
Ubaid is IAMC's founding president and demonstrates visceral hatred against India and Hindus. (Note that Ubaid is still active in IAMC and multiple anti-India protests as seen here). 
To bolster their agenda, Ubaid and IAMC notoriously exaggerate the number of Muslims that died in the 2002 Godhra riots. For example, in 2002, ImanNet (Indian Muslims Alert Network, a division of IAMC), published a brochure titled Unite to Fight Hindu Fascists, which contained highly explosive information to incite anger and hatred in a wider audience in mosques and other public spaces. Among other things, the brochure exclaims: "It is estimated that more than 5,000 Muslims [emphasis added] were hacked to death, burnt alive or shot by police in the Gujarat ethnic cleansing and 2,000 women and little girls [emphasis added] were raped."
Ubaid sent a personal appeal to Muslim media outlets around the world, urging financial help as well as "volunteers to distribute the [above brochure] in their area masjids, churches, schools and stores." In this appeal, Ubaid exaggerated the situation yet again by declaring: "The fascist forces have plans to ethnically cleanse India of Muslims, Christians and other minorities. In Gujarat they demonstrated the depth of their evil when they massacred 5,000 people, gang-raped and burnt alive little girls. Even unborn babies were not spared." 
Such sensational claims mask the truth – the death toll from the Godhra riots was well documented as around 1100 people, which included 790 Muslims and 254 Hindus, not to mention the 59 Hindus that were burnt alive by a Muslim mob, sparking the riots. This is nowhere close to the exaggerated numbers that Ubaid and IAMC continue to peddle. The official numbers were also released by the Minister of State for Home Affairs, who belonged to the Congress Party of India, and not by the "Hindutva" BJP.
ImanNet, IAMC and the SIMI Connection
IAMC and ImanNet's Islamist/terrorist connections come to light yet again through the likes of Ubaid and Syed Azmatullah Quadri. For example, in 2008, the Coalition Against Genocide (a shell coalition that was started by IAMC and other organizations — full 269-page report exposing this can be downloaded here) wrote to President Obama expressing concerns over the selection of Sonal Shah to the President's Transition Board, blaming Ms. Shah for maintaining links to "Hindu extremists." (this attack continues against her and many other Hindu political leaders and public officials even today). In the letter, Syed Azmatullah Quadri signs as the Founding Chairman of ImanNet, while Ubaid signs as the Founding President of ImanNet.  According to Illinois State Records, Quadri was the Registering Agent of IMC-USA, the former name of IAMC. But, Quadri was also one of the founders of Consultative Committee on Indian Muslims (CCIM).  In 2008, The Times of India carried an article stating that the CCIM and the Islamic Society of North America (ISNA) provided significant financial support to the Students Islamic Movement of India (SIMI).
SIMI is a banned terrorist/jihadist organization in India that has been active since 2001 with links to Jamaat-e-Islami (JeI), Lashkar-e-Taiba (LeT), and the Pakistani Inter-Services Intelligence (ISI). SIMI leaders and members have been arrested in India in connection with multiple terrorist attacks and plots. SIMI has "…declared Jihad against India, the aim of which is to establish Dar-ul-Islam (land of Islam) by either forcefully converting everyone to Islam or by violence." In 2008, the jailed chief of SIMI, Safdar Nagori, told prison interrogators that he had "…'great respect' for Osama bin Laden…" and that "…Taliban's Mullah Omar [is] the 'true caliph' of the Muslim world".
Ubaid and the Islamic Circle of North America (ICNA)
Ubaid has also been associated with the Islamic Circle of North America (ICNA) for many years and was the secretary-general of ICNA as well as the associate editor of ICNA's newsletter The Message. 
ICNA is known for its Islamist views and has been under close scrutiny and criticism for alleged ties to Islamist extremist organizations and individuals around the world.
A 2018 hearing held by the US House Subcommittee on National Security, titled The Muslim Brotherhood's Global Threat discussed the dangerous connections of the Muslim Brotherhood with groups like ICNA, ISNA, CAIR and others, and stated that ICNA was "hatched" by Jamaat-e-Islami. 
In 1999, ICNA's Secretary General, Zaheer Uddin, wrote an article describing the various phases of ICNA's development, among which was to work in the shadow of the Muslim Student Association (MSA) and to "strengthen Jamaat-e-Islami Pakistan" (second phase of ICNA).
Jamaat believes in establishing a hard-core Islamic state based on Shariah law and has been known to lend support to the Afghan Taliban and Islamist Jihadists. In February 1999, Qazi Hussain Ahmed, the late Chief of Jamaat, gave an interview in a Baluchi Magazine Jamhooria Islamia,  in which he states that once in power, Jamaat will abolish the rights of women and minorities, "…either by monetary or psychological factors". He continued, stating that their motto is "…constant jihad. The idea is to keep Pakistan in a constant state of Jihad all the time.' [emphasis original]. He envisioned that "Pakistan will be the center of the new Islamic empire that stretches from Burma to Afghanistan and from Sri Lanka to Tajikistan, including Kashmir. Toward the end, the Jamaat will use all tactics from terrorism in the kafir-controlled area to negotiations in the Muslim-controlled areas."
In addition, Jamaat's old website carried a link to a highly biased and incendiary website on Hinduism by one Abdul Wahid.  This was the sole information available on Hinduism on Jamaat's website.  Titled Hinduism: Inside and Out, the website opens with the following introduction to Hinduism:
It seems that a group of polytheists with a sick fetish for cattle have the audacity to launch an attack against Al-Islam. Yes, the irony is truly there, but these people have brought their own destruction from shirk (polytheism), so it is our duty to bring to light major points about this religion, which currently is oppression 98% of the country of India (as well as other Hindu-majority countries). From the articles that will follow, the reader will be able to easily see how sick of an atrocity Hinduism is upon humanity. If these people would only submit their hearts to Al-Islam and live their lives by the way of Syedna Rasul-e-Akram (Sallallahu alayhi wa Sallam), they wouldn't be in half of the predicament they exist in today, with all of their sorrows pointing towards one thing: Hinduism!
ICNA's October 1997 edition of its newsletter, The Message, prominently featured an exclusive interview with Syed Salahuddin Ahmed, the Supreme Commander of Hizbul Mujahideen, a terrorist organization that advocates a violent armed struggle against India in Kashmir. Ahmed is also on the National Investigation Agency's (NIA) Most Wanted list. In the interview, Ahmed proudly and optimistically describes the success of the Jihadi struggle against India:
The situation by the Grace of Allah, is very optimistic and most encouraging…And by the Grace of Almighty Allah, Kashmiri mujahideen have been vigorously engaging in open combat for the last seven years, resulting in the total loss of 20,000 troops of India, including four big generals, four to five brigadier-colonels (sic), and more than 250 major and captain-ranking people.[38]
In the December 1997 edition of The Message, ICNA openly glorified Jibril Abu-Adam (born Lawrence Nicholas Thomas) as a "shaheed" (martyr) in the name of Jihad in Kashmir. Abu-Adam, who trained at terrorist camps in Pakistan, was killed in a skirmish in Kashmir along with other terrorists who had crossed over from Pakistan. The newsletter stated: "It is quite evident that Jibril's struggles were motivated by devotion to Allah (SWT). Clear signs that the conflict in Kashmir is jihad are numerous."
The article goes on to glorify the terrorist act further:
On 26 October 1997, at the village of Doda in Kashmir, there was a skirmish.  Thirty-four Indian soldiers were killed, and four Muslims became shaheed (martyrs). Allahu Akbar! Among those who became shaheed was Jibril, Insha' Allah. (It is reported from reliable sources that Jibril was responsible for killing 17 of the 34 Hindu fighters.) [Comments original]
The newsletter then concludes how Jibril was honored at the ICNA Southeastern Regional Convention in Atlanta:
On 29 November 1997, a plaque was presented to Jibril's family during the ICNA Southeastern Regional Convention in Atlanta. The inscription reads: Think not of those who are killed in Allah's Cause as dead. Nay they are alive with their Lord and have their provision (Qur'an 3:169). In recognition of Jibril Abu-Adam (also known as Lawrence Nicolas Thomas) [comments original] for his devotion to His Creator and his ultimate sacrifice on behalf of his fellow Muslims in Kashmir.
IAMC and Pieter Friedrich
IAMC works very closely with Pieter Friedrich, who bills himself as a "South Asian analyst" and an "expert on Hindutva" and has risen in prominence over the past few years thanks to the relentless Hinduphobia and bigotry advanced by IAMC and others.
Friedrich operates as a henchman, going around attacking Hindu political figures, organizations and events under the rubric of "rooting out Hindu extremism" from America. Several websites have written extensively about his bigotry and lies (see here, here, here and here).
But, a few points to highlight:
In June of 2022, Friedrich reached climax when he staged a protest in front of Congressman Raja Krishnamoorthi's office, accusing him of working with "Hindu extremists" and chanting "death to Raja."
In June 2022, IAMC also tweeted out support for Junaid Ahmed while accusing Krishnamoorthi of "Hindu nationalist" ties, fueling the bigotry against Krishnamoorthi even further.
This violent rhetoric and bigotry was slammed by top Democrats, including Illinois State Secretary Jesse White. Condemning Friedrich and his actions, White noted:
I know Congressman Raja Krishnamoorthi to be an outstanding Member of Congress and leader in our state. I was deeply disturbed that anti-gay and anti-abortion activist Pieter Friedrich used violent, extremist, and racist language toward Congressman Raja, and that his opponent, Junaid Ahmed, promoted Friedrich's activities…
If that was not enough, prominent civil rights activist Reverend Jesse Jackson took to Twitter and condemned Friedrich and Ahmed in very strong words.
New flash – no, Rev. Jackson or Jesse White are not "Hindutva extremists"!
Friedrich is also known for his extensive support of the vandalization of Gandhi statues across the United States, working in partnership with extremist Khalistani organizations that have advocated for violent separation of the State of Punjab from India. In January 2021, Friedrich congratulated those who vandalized the Gandhi statue in California. 
Friedrich's bigotry against Hinduism can also be seen in this 2018 protest, where he is holding a sign saying "I called my MaMa a cow & she slapped me!" As someone who is familiar with Hinduism and the fact that many Hindus hold the cow in reverence, such messaging advances bigotry against the Hindu community and desecrates what many Hindus hold sacred.
IAMC's website features multiple articles by Friedrich. One article warns about the impending genocide of Muslims by "Nazi" RSS. Another, along the same theme, discusses how "Hindutva" is being challenged in the United States. Yet another article claims that the Biden Administration is taking a dangerous path with the Modi government, warning that the situation in India demands "urgent attention" and that "…genocide forces are flooding across India right now…"
However, the connection between Dr. Shaik Ubaid, Pieter Friedrich and the organizations that Ubaid is connected to (IAMC, ASPAIRE, Coalition Against Genocide, etc.) becomes clear in this 2020 leaked WhatsApp message, where Ubaid boasts of starting these groups as well as hiring Friedrich as a "research analyst" to slander Hindu organizations and peddle Hinduphobia. The below message creates an extremely dangerous and false rhetoric of "Hindutva organizations" taking control of Hindu temples, professional associations, and even "infiltrating" the United States government to spread venom.
In the message, Ubaid is seen attacking Sri Preston Kulkarni, a Hindu political leader from Texas, and accusing him of links with "Hindu extremists" in the same manner as Raja Krishnamoorthi above.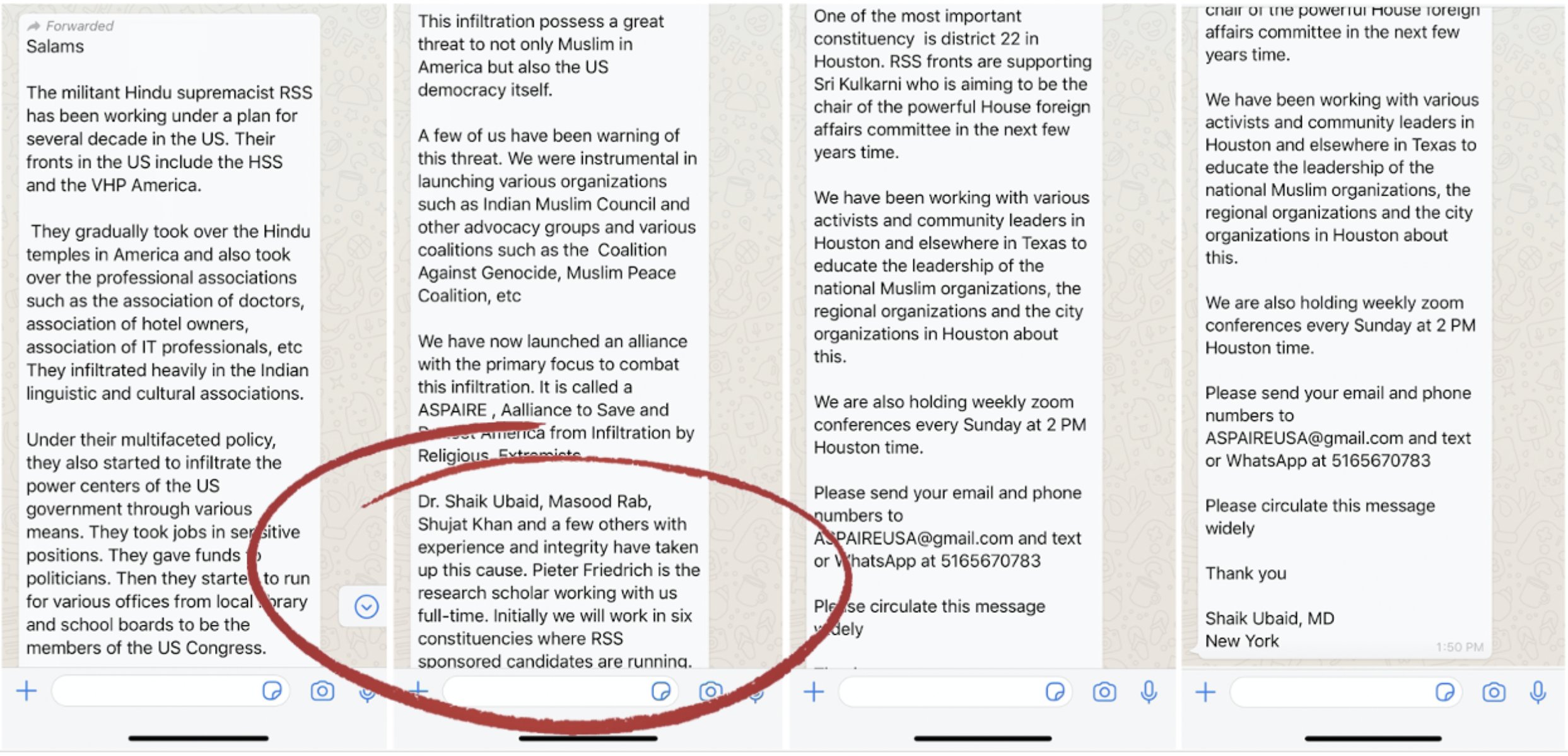 IAMC's biased and hyperbolic stances are not a thing of the past. For example, on February 28, 2020, IAMC tweeted a graphic that illustrated how Delhi's riots are an anti-Muslim pogrom aided and abetted by the Indian government.
This tactic is similar to the one used to exaggerate claims about the 2002 Godhra riots.  It was well documented that both Hindus and Muslims died in the Delhi riots and it was nowhere close to a pogrom as IAMC would like us to believe. For two decades, IAMC and its coalition partners have been screaming of violent genocide against Muslims. Yet, India's Muslim population has continued to grow and India is set to become the largest Muslim country in the world by 2060.
In a similar vein as above, on March 3, 2020, IAMC tweeted an article that wrongly portrayed the Delhi riots as the beginning of a state-sanctioned pogrom against India's Muslims and completely downplayed the number of Hindus killed in the riots – a theme that has been pushed by IAMC, HfHR, Equality Labs and many others. To them, Hindu lives and trauma do not seem to matter. When genuine Hindus call out this bias, they are labeled as "Hindutva extremists" and thus gagged.
IAMC and Coalition Against Fascism in India (CAFI)
Jazzy name indeed. CAFI describes itself as a "a broad, progressive and inter-faith coalition based in the US, comprising citizens concerned with the rise of fascism and Hindutva extremism in India. It is not affiliated with any political party." However, closer examination of the coalition members reveals interesting facts.
CAFI is a new incarnation of Coalition Against Genocide (CAG), a coalition that was set up by IAMC, the Forum of Inqualabi Leftists (FOIL) and various other anti-Hindu groups. Most of the core players in the CAG are still active in CAFI. CAG and CAFI dupe the general public, lawmakers and students by creating false and paper-based organizations to create a propaganda of hundreds of groups fighting against a "fascist Hindu government." The reality, as analyzed in my report on CAG, is very different and shocking.
CAFI members, among others, include IAMC, Alliance for a Democratic and Secular South Asia (ASDSA), Hindus for Human Rights (HfHR), India Civil Watch (ICW), International South Asia Forum (INSAF), etc.
This group's members have a history of attacking Hindus and Hinduism for many years, openly supporting secessionism, a bigoted, violent political agenda, and even terrorism.

For example, Alliance for Secular and Democratic South Asia (ASDSA) has known ties to individuals who have openly supported the violent Maoist terrorism in India. In 2001, M.V. Ramana, a member of ASDSA, wrote a Hinduphobic article The Bomb of the Blue God, juxtaposing the image of Hindu deity Krishna on a bomb and linking the sacred text Bhagavad Gita to violence.
Similarly, India Civil Watch's (ICW's) key member and spokesperson, Raja Joseph Swamy (alias Raja Harish Swamy) has extensive links to bigots like Kancha Ilaiah who have called Hinduism a "religion of violence." In fact, Swamy  has personally demonized Hinduism as inherently and necessarily oppressive and violent. According to Swamy:
Hindu 'dharma' is caste-based; Hinduism is casteism; to be Hindu means to belong to a caste, and not as it is in most religions, to merely subscribe to a set body of beliefs. Hinduism has no universal religious requirements; therefore it is sufficiently open to interpretation along lines that are outrageously oppressive.
International South Asia Forum (INSAF) is a sub-group of The Forum of Inqualabi Leftists (FOIL), formed with the help of the Montreal-based South Asia Research and Resource Center (CERAS). CERAS is also a part of CAFI. One of CERAS' founders, Daya Varma, was a hardcore Maoist who was proud of his association with the violent Naxalite movement in India. In sharing how he became a Maoist, Varma admitted: "Perhaps because of the Chinese support for Naxalbari armed struggle, I became a Maoist. As a result, I got linked to crazy or less crazy Maoists. Even after realizing that many of these outfits were opportunists or reflected juvenile enthusiasm rather than a commitment to revolution, I remained a Maoist[emphasis added]."
IAMC and Rutgers Professor Audrey Truschke
Another interesting alliance is that of IAMC and Rutgers University professor Audrey Truschke. Truschke is known for her routine demonization of Hinduism and Hindus, from calling one of the most sacred Hindu deities (Shri Rama) a "misogynistic pig" to claiming that one of the most sacred Hindu texts (Bhagavad Gita) "rationalizes mass slaughter."
Interestingly, Truschke serves on the Advisory Board of Students Against Hindutva Ideology (SAHI, previously known as Holi Against Hindutva), an organization founded by IAMC and HfHR. Another advisor to SAHI is Ajit Sahi, IAMC's advocacy director discussed above. SAHI came under fire for demonizing Holi, one of the most popular Hindu festivals, calling it a "casteist" and oppressive festival that celebrates the burning of a "low caste" woman.
SAHI was specifically set up to fool gullible youth into the false idea that India is attempting to exterminate its minorities. The movement has fallen flat since.
In 2021, IAMC featured a lengthy article defending Truschke by HfHR founders Sunita Viswanath and Raju Rajagopal, who accused Hindu organizations of running a "blitzkrieg" against Truschke and accusing them of being "Hindu extremists." The organizations (which included reputed Hindu temples and spiritual organizations) were merely protesting against Truschke's routine Hinduphobia and attacks on Hindu sacred texts and figures.
Truschke and IAMC routinely work together and support each other. For example, in 2022, IAMC organized a letter campaign against the Indian government's concerns regarding the group's Islamist connections. The letter was signed by Truschke, along with HfHR and other groups that IAMC routinely works with.
The below tweet is a great example of how IAMC supports the narrative created by Truschke against Hindus and Hinduism.
Hindus for Human Rights (HfHR)
HfHR is an advocacy organization founded by Sunita Viswanath, who is also the founder of Sadhana: Coalition of Progressive Hindus. I have briefly discussed Sadhana's dangerous views and alliances in this report on the attack on the 2018 World Hindu Congress.
NOTE: HfHR enjoys ZERO support from any of the major Hindu organizations in the United States or abroad.
HfHR, along with IAMC, has also endorsed Holi Against Hindutva, applauding its "creative approach and…the youthful energy." However, HfHR cleverly masks its true intention behind an innocuous goal of "manavtha" (human rights) of all communities from a Hindu perspective." Apparently, Hindus are not important or human enough – the organization almost exclusively fights for the rights of other religious groups and demonizes Hindus and the Indian government in all sorts of ways (see their blog here, with not a single human rights tear for Kashmiri Hindus, Pakistani Hindus, Bangladeshi Hindu, Rohingya Hindus, etc.).
To show its hypocrisy, consider this – On January 31, 2020, it applauded and endorsed Congresswoman Pramila Jayapal's Resolution (HRes745) on Kashmir. In its endorsement, HfHR remarked that "there is an urgent need for the United States and the rest of the world to keep up the pressure on India to take meaningful steps to ease the suffering of the Kashmiri people." January 2020 also marked the 30th Anniversary of the brutal ethnic cleansing of about 400,000 Kashmir Hindus. Yet, HfHR completely ignores these Hindus in advocating for end to the "suffering of the Kashmiri people."
Apparently, Kashmiri Hindus are not true Kashmiri people. Their lives and transgenerational trauma don't matter.
Similarly, on December 12, 2019, HfHR, along with the IAMC, co-sponsored a congressional briefing where speaker Dr. Gregory Stanton warned the attendees that "preparation for a genocide is definitely underway in India," in order to influence US lawmakers to act against India. Continuing with HfHR's biased advocacy – one of its board members is Raju Rajagopal, the founder of another West Coast based radical leftist subgroup (EKTA/Coalition Against Communalism). Rajagopal and EKTA used to host the websites of other radical leftist member groups and subgroups that were created by the Forum of Inquilabi Leftists (FOIL). Rajagopal actively opposed Hindu parents in the 2005 Sixth Grade California Textbook Controversy, which depicted Hinduism in a pejorative way vis-à-vis other major world religions. Rajagopal argued that such views were important, because "…exposing our children to India's vibrant pluralistic and 'argumentative' traditions, and encouraging classroom discussions on the legacies of racism, caste and gender bias, will serve them better as future citizens, whether of the US or of India."
That may be true in higher-grade classroom or a college-grade classroom; however, such "healthy discussions" do not happen in sixth-grade classes in the US. Instead, the Hindu/Indian kids only sit with their heads down in utter dismay and feelings of inferiority and may come home crying about how embarrassed they are to be a Hindu. Rajagopal should perhaps avail himself to giggles and other snide reactions of non-Hindus by sitting in the sixth-grade class!
Such views are also endorsed by Viswanath and Sadhana, when they supported the campaign against Hindu parents. Sadhana's members have also taken the story of Ramayana out of context to fit their political agendas. To illustrate, one of the "anonymous" members of Sadhana wrote a blog reinterpreting the story of Sita's Agnipariksha (test by fire) through skewed lens of feminism and marginalization. In the blog entry, she calls Rama "a god king [who] isn't grown-up enough to simply ignore idle gossip after the first trial…" and then goes on to declare:
Because all the Sitas are also fresh out of fucks, and we want a lot more than a safe space away from sorry kings. We want an end to the slut-shaming. We want the justice system, in its required adherence to evidence to stop policing and punishing women more than it ever upbraids or holds men accountable.
Such dangerous juxtaposition is how organizations like Sadhana, Equality Labs and others confuse young Hindus to hate their religion and culture in the name of feminism, gender equality, racism, and social justice.
HfHR also has a history of working with Pieter Friedrich, whose bigotry was covered above. For example, in August of 2020, the group invited Friedrich as a speaker to speak about the "increasing influence of Hindutva" in local American politics, advancing the false idea that "Hindu extremists" are infiltrating the American political landscape. 
The Council for American Islamic Relations (CAIR)
Founded in 1994, CAIR is one of the foremost Islamist organizations in the United States. At least for the past two decades since 9/11, it has done an excellent job masking its Islamist and extremist connections and using a tactic of accusing its opponents of "Islamophobia," a fact that was observed by Tawfik Hamid, a former Islamist thinker and a member of a terrorist organization in a 2007 Wall Street Journal Op-ed (see page 1 of the Congressional Record submitted by Congressman Frank Wolfe here).
The Anti-Defamation League (ADL) has called out CAIR for its antisemitic views and maintains an entire page on the organization. 
But, probably the most important evidence comes from one of the longest and largest ever successful terrorism investigation conducted by the US government against various Islamic organizations.
In 2009, the US government named CAIR (along with the Islamic Society of North America – ISNA) an "unindicted co-conspirator" in its indictment of The Holy Land Foundation (HLF) and five of its leaders, who provided material support to the terrorist organization Hamas. Before its indictment, HLF was the largest Muslim charity in the United States. The government press release also detailed how Hamas' parent organization, the Muslim Brotherhood, planned "…to establish a network of organizations in the U.S. to spread a militant Islamist message and raise money for Hamas."
In addition, HLF and the five defendants "…provided approximately $12.4 million in support to Hamas and its goal of creating an Islamic Palestinian state by eliminating the State of Israel through violent jihad."
Yes. Violent Jihad.
The government named CAIR and ISNA as part of the Muslim Brotherhood's network in the United States (see page 5 and page 8 in this memo here).
In 2015, the FBI cuts all its ties with CAIR, following the terrorism financing trial. And, in 2008, the FBI's Oklahoma City office also canceled a meeting with Muslim organizations due to the presence of CAIR.
In 2009, Congressman Frank Wolfe of Virginia submitted a lengthy memo, filled with letters and special correspondences, for the US Congressional Records, detailing CAIR's terrorist connections and support for Hamas. The memo describes Special Agent Lara Burns testifying during the Holy Land Foundation case that CAIR  ''was formed in the aftermath of a 1993 meeting by Palestinian activists in America who brainstormed ways to spread proHamas messages here without attracting too much attention.''
Similarly, the memo details how, in a 1994 forum discussion videotaped at Barry University, CAIR's Executive Director Nihad Awad said, ''I'm in support of the Hamas movement.'' 
Following the Holy Land Foundation case verdicts, at least three states issued legislative bills to avoid and suspend all law enforcement and governmental agency contacts with CAIR.
In 2017, the State of Mississippi introduced such a bill, detailing several CAIR officials who have been sentenced to prison on various terrorism related charges – e.g. Muthanna Al-Hanooti (one of CAIR's directors), Abdurahman Alamoudi (CAIR's Northern Virginia Director), Randall Todd Royer (who served as a communications specialist and civil rights coordinator for CAIR), Bassem Khafagi (CAIR's former Community Affairs Director) and Rabih Kaddad (CAIR's Michigan fundraiser). The resolution called upon Mississippi law enforcement and governmental agencies to suspend all interactions with CAIR.
Rabih Kaddad was also the Executive Director of Global Relief Foundation (GRF), the charity that was designated by the US government for financing al Qaeda and other terrorist organizations. As discussed earlier, GRF's spokesperson, Asim Ghafoor, was a speaker at two of IAMC's flagship conferences.
In 2017, the State of South Carolina also introduced a similar bill calling on law enforcement and governmental agencies to suspend all interactions with CAIR. And, in 2019, the State of Arkansas introduced a similar bill.
CAIR's actions have been also condemned by Muslims. Following the FBI decision to sever ties with CAIR, the Center for Islamic Pluralism, a Washington DC-based Muslim organization, commended the FBI for "its rejection of CAIR." The Center decried CAIR for "…their commitment to radical aims, their attempts to chill free speech by calling critics of radical Islam 'Islamophobes,' and their false, ugly accusations against moderate American Muslims who disagree with their agenda." And, in 2014, the United Arab Emirates designated CAIR and the Muslim American Society (MAS) as terrorist organizations.
Conclusion
American political leaders, media, and the public at large in New Jersey have failed to do their due diligence on groups like IAMC, HfHR and CAIR. By endorsing their false propaganda and violent rhetoric against Hindus and Hinduism, they are enabling Hinduphobia and opening up Hindus for further attacks and bigotry. They are sending a message to Hindus in New Jersey that their religious rights and voices matter less than those with a history of bigotry, homophobia and racism.
Do Hindus have to see another round of the violent Dotbusters era of the late 80s or be subject to "cancel culture" based on lies promoted by such groups? Indeed, as the recent Hinduphobia study by Rutgers University warns, anti-Hindu disinformation can lead to real life violence.
They are also ignoring the hard work done by American agencies to uncover and unmask the terrorist and extremist connections of these organizations following the largest ever attack on American soil. That is a total disservice to our country and an abdication of their civic duties.
Shameful. Especially in New Jersey, where hundreds of families have been impacted by terrorism and bigotry supported by these organizations.
Disclaimer: The opinions expressed in this article are the personal opinions of the author. IndiaFacts does not assume any responsibility or liability for the accuracy of any information in this article.
.