Raza Rumi – When Silence is Murder
In Pakistan, there are liberals and there are fake liberals. An average Indian does not recognize this distinction. The true liberals uphold a sense of ethics and morality in speech and writings and work for the benefit of people  irrespective of their nationality, ethnicity or religion. Generally true liberals believe that eliminating jihadists from Pakistani society is in the interest of Pakistani people. You can cite names of Pakistani authors and commentators such as Mohammed Taqi, Ambassador Husain Haqqani and Dr. Ayesha Siddiqa who are widely respected for their defence of Pakistani people's interests. Indians will be even willing to take a rebuke from Husain Haqqani about their failings because his concern for people is extraordinary.
Then there are fake liberals; they too are liberal in some sense but their objective is to save the Pakistani state, not the Pakistani people. The easiest way to identify the fake liberals is this: they promptly get offended by any criticism of Pakistani military and its Inter-Services Intelligence, or ISI. Like true liberals, the fake liberals also advocate democracy and women's rights, but they are intentionally silent on the Pakistani military's role in Balochistan. Their criticism of ISI's protection of jihadist hideouts in Bahawalpur, Muridke, Rawalpindi and Muzaffarabad is shrill and cosmetic, not beyond a few passing remarks. In their writings they advance the ISI's narrative of foreign policies, especially with regard to India, Afghanistan and the U.S.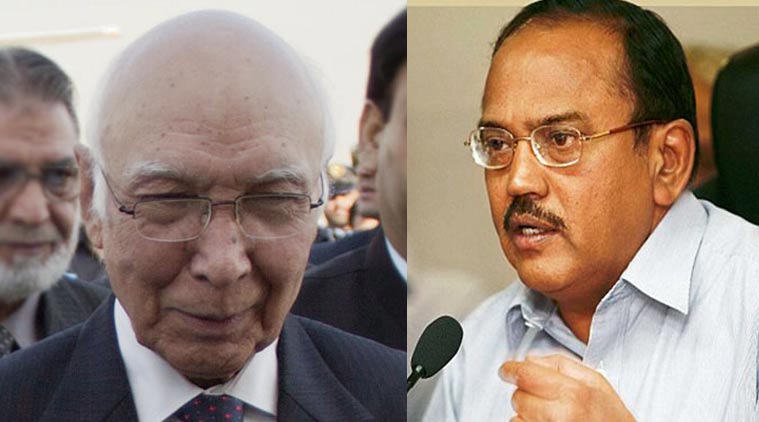 Raza Rumi, who is hosted by Indians regularly, is a Pakistani commentator who wrote a piece on August 23, in which he blames PM Narendra Modi for Pakistan's cancellation of the talks between the two countries' National Security Advisers (NSAs), shields the Pakistani military and ISI, and denounces any support for Balochs. In the article which appeared on liberal-leftist Indian website Catchnews.com, Rumi thinks that the cancellation of the NSA talks took place due to the "major roadblock" that "came in the wake of Pakistan's desire to engage with Kashmiri separatist leaders".
Not at all: the major roadblocks are the Pakistani jihadist terrorists being armed by your state, your military and your intelligence agency, the ISI – the lead tormentor of Pakistani people. As a senior journalist, you would know that much. Also, he thinks that this "desire" of Pakistan to meet separatist Kashmiris is Pakistan's birthright that Indians must honour.
"This is a pattern set by the Modi administration: Look tough, act tough when it comes to Pakistan," Rumi observes. The fact is this: Modi is looking large-hearted, too suave and too lenient in the face of Pakistani jihadist infiltration. The truth: India hasn't been acting tough; even an equal response would have been to shoot one person in lieu of each jihadist infiltrating into India. In fact, even under the Modi government, as new research by journalist Praveen Swami shows, India – being a responsible member of the international society of states – has been returning Pakistani jihadists back to Pakistan because India adheres to strict due process in Jammu & Kashmir and it finds it difficult to produce evidence that could be admissible in Indian courts. So, instead of telling Indians, what about telling ISI to stop infiltrating jihadists into India and there wouldn't be need for a tough policy?
In the rush to beat up Modi and Hindus, Raza Rumi's intellectual memory remembers this: "Exactly a year ago the Indian government called off its Foreign Secretary's visit to Islamabad when Pakistan's High Commissioner in Delhi met a group of Kashmiri separatists." But simultaneously, his memory chooses to forget the following: Modi did send his Foreign Secretary Subrahmanyam Jaishankar to Islamabad for two days on March 3-4 this year. Rumi thinks that Indians should insert the ISI-sponsored Hurriyat leaders into India-Pakistan talks because India used to do this earlier. He adopts silence about any role for popularly elected leaders in Kashmir because the elected Kashmiri leaders are not approved by the ISI.
Rumi writes: "Even during the time of the previous BJP government under Atal Bihari Vajpayee, General Musharraf met them during his 2001 India visit." The Pakistani writer is right. General Pervez Musharraf who launched arguably the largest jihadist invasion of India in Kargil in 1999 was indeed hosted by Indians. Musharraf's interviews are still sponsored by the ISI in Indian media.
Indian television journalists still long to have a photograph taken with Musharraf on whose watch the 2008 Mumbai terror attacks were planned. But if the past were the criterion for today's foreign policy, here is another past: Pakistanis arrived in Kashmir as jihadist invaders; they still occupy a part of Kashmir; the Pakistani army is in illegal occupation of Kashmir, not even backed by an instrument of accession. And under the UN resolutions, the Pakistani army is required to vacate Kashmir first before next steps can begin.
In his article, Rumi is totally silent on the ISI's jihadist hideouts in Bahawalpur, Rawalpindi, Muridke and Muzaffarabad. These jihadist hideouts are fundamental obstacles to talks. But in the Indian media Rumi advances the ISI's narrative: "But Pakistan is also concerned about Samjhauta Express that killed 68 (including 42 Pakistani nationals); and the covert support given to Baloch insurgents. In recent years, there is also an allegation of Indian links with those who support the anti-Pakistan factions of Taliban operating from Afghanistan."
Over the years, Pakistan has not produced any evidence of Indian hand in Balochistan, but if you are morally concerned about the people of Balochistan, why to even oppose any support for Baloch rebels? What about writing a few sentences in support of the Balochs, even the missing Balochs? Rumi observers complete silence on ISI's brutalities in Balochistan due to two reasons: one, speaking about Balochs will anger the ISI; two, the article is written with the purpose of advancing ISI's viewpoint in Indian media and to influence Indian journalists.
In September 2012, Pakistan's Chief Justice Iftikhar Muhammad Chaudhry was more honest than Raza Rumi when he called for: "an end to military operations against the Baloch and for the disbanding of the 'death squads' of the intelligence agencies operating in Balochistan." It will be good if Rumi imbibed even quarter-of-a-percent of Iftikhar Muhammad Chaudhry's honesty on Balochistan, especially because not a week has passed in the recent decade when a Baloch man hasn't been picked up by ISI, only for his dead body to be found by roadside.
Writing for the ISI, which is the creator and nurturer of jihadist organizations and as per WikiLeaks revelations was classified by U.S. officials as a "terrorist organization", Raza Rumi accuses India of supporting "anti-Pakistan factions of Taliban." It is true that a faction of Tehreek-e-Taliban Pakistan (TTP) is more ideological and deems Pakistan as insufficient Shariah state; but the mature writer Rumi chooses to blame India and picks up the Pakistani army rhetoric and inserts it into what he presents to Indians as a serious article on India-Pakistan relations.
The fact is this: the closest Pakistan came to producing evidence of Indian support to jihadists in Pakistan was when some suicide bombers were found in Pakistan who were not circumcised. Pakistanis blamed India saying they were Hindus because Hindus do not circumcise. Even that lie was exposed. Kamran Khan, a legislator from Waziristan in Pakistan'slower house of Parliament, went on record: "People are either circumcised in hospitals or barbers do the job. Neither we have hospitals in Waziristan nor institution of barbers… I don't deny there are uncircumcised people in Waziristan."
Being a keen observer of Pakistan, Raza Rumi would have not failed to notice how the ISI co-opted several jihadist commanders into its fold after it began the façade of Zarb-e-Azb operation in North Waziristan: Asmatullah Muawiya broke away from the TTP; Saeed Sajna left the TTP and joined ISI; Hafiz Gul Bahadur was persuaded by Sirajuddin Haqqani to remain with ISI; and Afghan Taliban leaders, including the new emir Mullah Akhtar Mansoor, are protected by ISI. And Malik Ishaq was recently killed in a staged police encounter because he was about to declare his bai'yah (oath of allegiance) to Abu Bakr Al-Baghdadi of ISIS, not ISI.
It wouldn't come as a surprise if the ISI attacks some people, especially those with liberal-looking credentials, so that they can get permanent visa in the United States. Soon after the terror attack on Wagah border in November 2014, a Christian couple were burnt alive to shut down any likely criticism of Pakistan's ISI by diverting the international media focus. Raza Rumi wasn't attacked by the Taliban.
Raza Rumi's unstated objective is to insert ISI's narrative into Indian media, especially because he maintains silence on ISI-protected jihadist hideouts. He writes: "The sifting of fact from fiction can only come if both sides were to place evidence…" What about doing the same in your article – about Balochs, about Maulana Masood Azhar's protectors, about Hafiz Muhammad Saeed?
[contextly_sidebar id="7r9ZBglVIP3mkgXkpgiBOQwDHxzglsWb"]
Yes, Rumi's point is valid on the Samjhauta Express court trial, but three points here for you: one, you adopt silence on the trial of Zakiur Rehman Lakhvi in the Pakistani court because mentioning this in your article will mean displeasing your masters at the ISI; two, there is indeed a due process failing on India's side in the Samjhauta Express trial but it does not automatically follow that Hindus are being sent into Pakistan as suicide bombers as you send jihadists into India; three, you insert the point regarding Samjhauta Express because the ISI wants you to do so.
Your silence is murder. Because it can displease the ISI, your article is silent on Dawood Ibrahim, the Indian terror mastermind of the 1993 serial blasts in Mumbai now residing in Karachi under the ISI's protection. Because it can hurt the ISI, you do not speak a word about Naved, the Pakistani terrorist caught in Udhampur and being held by India. Rumi thinks that Modi was voted to power by "rightwing Hindu extremists." In this country of 1.25 billion Indian people, how many Hindus do you think are extremists in your opinion? Sometimes learn about Indians' sensibilities from movies: even a Bajrangi is willing to take a beating to return a lost mute Pakistani girl back to her home in Pakistan. You have an inadequate and lopsided view of the Hindus' humanity because this is how the ISI and jihadist textbooks in Pakistan have taught you.
Raza Rumi writes: "These fundamental flaws of a policy – necessitated by domestic appeasement of the Hindu Right – confound the task of securing normalization in the region." Unfortunately, for you, confronting Pakistani jihadism is tantamount to "domestic appeasement of the Hindu Right" – you might be right because the Indian seculars have always turned the other cheek: each time you send jihadists into India, secular Indians have invited you, hosted you and served biryani dinners both at official levels and at unofficial levels. This biryani politics will end, not because secular Indians want to end it but because common Indians are getting more knowledgeable about ISI's jihadist role in India. Rumi views every Indian writer whose articles could be critical of ISI as Modi's supporter. No surprises here either: for generations of Pakistanis, Indian nationalism was always limited to Hindu nationalism, as taught throughout Pakistani curriculum.
Raza Rumi writes that Modi's supporters "consider that India's rise on the global stage will ensure that Pakistan is sidelined and ultimately cowed down." Cowed down from what? Why Pakistan should not be cowed down internationally for its support of jihadist terror organizations? Morally, you should also support it. Granted that you have a concern for Pakistan's reputation, but it is not for India to salvage Pakistan's future. The fact is this: the Pakistani military is fully capable of unilaterally ending its support to jihadist organizations overnight and salvage a bright future for the Pakistani people but it wouldn't do so – to understand this, you can read C. Christine Fair's authoritative book, "Fighting to the End – The Pakistan Army's Way of War."
Raza Rumi is also uncomfortable at Modi's "visit to the UAE" and dubs it as a "grand nationalist posture." He writes: "Modi did pursue the 'isolate-Pakistan' line in the context of SAARC and his recent visit to UAE. But this grand nationalist posture…" The fact is that the institution of SAARC was rendered meaningless by Pakistan because it always inserted bilateral issues into its agenda.
Rumi writes: "isolating Pakistan is not going to work out." There are two points about this: one, Pakistan is isolating itself through its jihadist sponsorship; two, are you sure that isolating Pakistan will not work out? In fact, it is Pakistan's international isolation that it has been reduced from a better-than-India economic record. It is indeed unfortunate that the people of Pakistan are suffering due to Pakistan's own isolation. You can't end isolation by supporting jihadists.
Raza Rumi thinks that "Nawaz Sharif is considerably weakened by last year's turmoil" – what about writing a sentence that the turmoil was engineered by the ISI? The protesters led by Imran Khan and Tahirul Qadri were supported by the ISI, most recently testified by Pakistan's federal minister Mushahidullah Khan who resigned after openly admitting an interview in mid-August that ISI plotted the anti-Sharif protests. Even during the protests, the Urdu daily Roznama Ummat reported that the anti-Sharif protests were engineered by ISI through the good offices of former ISI chief Shuja Pasha. As a senior journalist, you understand the ISI's repeat role in Pakistani politics but in your article you very carefully choose to ignore ISI's role because the purpose of writing is to serve the ISI.
Here is a point: It is not for India to nurture Sharif.
Raza Rumi writes: "Within Pakistan, there is broad support for Hurriyat. So Sharif cannot afford to alienate anybody." Frankly, how many Pakistanis voted Sharif for his support to the Hurriyat? Rumi adds: "Modi's 56-inch nationalism actually strengthens all those in Pakistan who prefer status quo." Do you believe this nationalism is only 56-inch, or are you speaking in received language, received from the biryani analysts of India? In fact, there are numerous instances to indicate that Sharif surrendered before the ISI-led deep state: remember the first bombshell that came in this act of surrendering was when Sharif's adviser Sartaj Aziz went to the BBC Urdu in 2014. A Pakistani media described this surrender in the following words:
"A senior aide to Prime Minister Nawaz Sharif on Monday [November 18, 2014] appeared to turn on its head the conventional wisdom of indiscriminately targeting all shades of militants in the ongoing military operations in the tribal regions, arguing in favour of a more selective approach. 'Why should Pakistan target those who do not pose any threat to its security?' asked Sartaj Aziz." Before Nawaz Sharif and Sartaj Aziz, there was case of a young Pakistani leader being rebuked by ISI when he had begun talking of good ties with India: Bilawal Bhutto.
Speaking of vacuum in bilateral peace process, Raza Rumi observes: "This space is now filled by cacophony by the media, which likes to sell conflict rather than peace." In writing this, you choose to create a gigantic black hole in your long article and turn a blind eye to the jihadism of the ISI and the jihadist groups protected by it in Bahawalpur. It is interesting to note that you want talks at every cost but talks for what? You are intelligent enough to insert a few points on climate change, but couldn't you have filled the vacuum by uttering a few words such as: Dawood Ibrahim, Masood Azhar, the ISI, Hafiz Mohammad Saeed, Lakhiur Rehman Lakhvi, the Balochs, Syed Salahuddin, Pakistani military and coopting of Asmatullah Muawiya and his type, and so on?
Raza Rumi's article is titled: "Be mature guys; there's a lot at stake in India, Pak." He is indeed very mature, shielding the ISI and its jihadists very maturely, very intelligently. It is possible that the title may not have been written by you, as is often the case in journalism. However, its ownership belongs to you. You are asking both the ISI and Indians to get mature, the former by continuing to nurse jihadist sanctuaries in Muridke, Bahawalpur, Rawalpindi and Muzaffarabad and the latter by continuing to hold biryani talks. How do Indians become "mature" – by turning the other cheek? You are also silent on Sartaj Aziz's recurring threat to use nuclear bombs.
It may be time Pakistan, like Libya, handed over its nuclear weapons to the international community.
Rumi adds: "Citizen activists on both sides have to drive home sense into their respective government." And not a word to drive sense into the Pakistani government – by a Pakistani writer? Some Indian writers are using phrases like "civil society" and "non-state actors." There is no civil society in Pakistan, only a handful of progressive writers, especially women; if there is one civil society in Pakistan, it is controlled by religious groups and shepherded by the army. Not many Indians grasp this: Pakistani army chief is the king of Pakistan. There are no non-state actors in Pakistan either; there are only state-backed actors, other than the TTP for the time being.
Pakistani people's interests will be better served if India prepared a list of 100 Pakistani terrorists and hired Italian or other mafia to eliminate them $1 million per piece. It is indeed in the interest of Pakistan and a concern for Pakistani people will mean that Raza Rumi should support such a move.
It is time Indians also understood this: Pakistani diplomats are doing much better than their Indian counterparts. To the Indian youths: have the patience of a Buddhist monk; do not expect Modi to deliver a permanent peace; Modi is not a superman. The Pakistan conflict is rooted in Pakistan's religious identity and cannot be resolved as long as it exists.
The purpose of this article is not to argue that India and Pakistan should not talk, but to identify the black hole Raza Rumi created in his article. Liberals dish out the argument: you cannot choose your neighbour, you cannot wish away your neighbour. So, this is what this writer wrote recently on how to deal with neighbours: learn from how neighbours live in villages.
Sometimes, you boycott a neighbour's marriage and at times, you persuade your neighbour to grace your daughter's wedding; sometimes, a neighbour erects a fence and you do the same; sometimes, you break bread together and at times, you turn away when your neighbour is passing by; at another time, your neighbour encroaches on your land and you break your neighbour's nose.